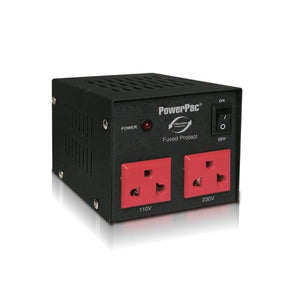 O

verload protection.

Overheating protection.

Short circuit protection.

Efficient and smart.

Precision voltage.

Precise input voltage selection according to the country where it is being used.

Suitable for Water dispenser, priter rice cooker, fan fax machine, air machine, computer.

Select proper input voltage switch at the back of the Transformer

Connect the converter onto a power socket. Insert your appliance plug into the multi socket on the transformer & turn power on.

Purely use for AC output with all types of appliances rated 0-350 watts

Switch on AC 117V: Input 110V/120V, Output AC 220V/240V

Switch on AC 230V: Input 220V/240V, Output AC 110V/120V

AC 117V suit for using in: America, Canada, Japan, Brazil, Taiwan, Mexcio etc,.

AC 230V suit for using in: China, European Union Countries, Middle East etc,.

For indoor use only. Make sure correct voltage is selected before use .