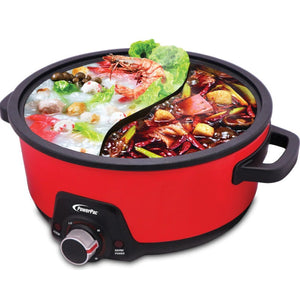 The 5L Steamboat (with 2 Compartments) and Multi-Cooker, Hot Pot PPMC633 carries out the cooking functions of many appliances all within one versatile and time-saving tabletop electric appliance, freeing up your modern kitchen's already limited space.
It can boil, braise, fry, roast, saute, steam, stew, Steamboat / Hot Pot, even bake! With its boiling function, it can cook instant noodles, as well as prepare various types of soups. Using a multi-cooker you will be able to make hundreds of different meals, such as oatmeal, yoghurt, bread, cakes, scones, risottos, soups, stews, casseroles, pot roasts, potatoes, steamed vegetables, desserts and cakes. In particular, it allows for two types of Hot Pot to be served at once, as the two compartments are separated. Multi-cookers also use less oil, so you will be consuming fewer calories.
Once you get the hang of using your appliance you will soon be enjoying the benefits of nutritious, healthy food prepared from fresh ingredients without being tied to the kitchen for hours on end.
It possesses the following features: a removable power cable for convenience, and a removable stainless steel Inner Pot with non-stick coat which can hold a wide variety of food items. Its safety features include auto-shut off function which automatically shuts off power when the temperature rises above a threshold limit.
The 5L Steamboat and Multi-Cooker, Hot Pot PPMC633 is light, easy to handle, attractively-designed, uses less electricity due to its high energy efficiency and serves to ensure your food is safe for consumption for many years to come.
Non-stick inner pot , Come with 2 compartments, Tempered glass metastable lid, Thermostat for temperature control
Cool touch handle and base, Removable inner pot for easy cleaning, High-quality and durable build
Efficient. Powerful. Even heat distribution
Voltage 220-240V, 50/60Hz, Power 1500Watts, Capacity 5.0L ( 4-6 Pax)