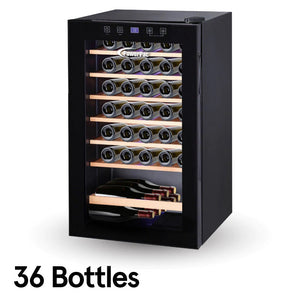 The Wine Chiller PPF36 is ideally suited to store 36 bottles of 0.75 litre Bordeaux style wine bottles.
The technologically-advanced Thermostat maintains constant temperature in every compartment. Adjusting the temperature is simple and fuss-free. Just press one button on the Control Panel to increase the temperature by 1oC or 1oF, and another button to decrease the temperature by 1oC or 1oF. Temperature range is between 4oC to 18oC. The 3-layered glass door keeps the temperature low and running costs down. A lamp can be turned on by pressing a button on the Control Panel, so you would not have to keep opening and closing the door to view your wines. However, in the event that you need to open the door, you will find that the door opens and closes smoothly and safely. Cleaning is also much easier, as there are built-in-drainage holes at the bottom of each interior compartment.
When properly stored, wines not only maintain their quality but will actually improve in aroma, flavour and complexity. Wines kept at a higher temperature will age faster. Wines kept at too low a temperature in a home refrigerator results in harmful deposits. A humidity of 60%~70% is ideal for keeping corks from shrinking.
When stored correctly, white wines can keep well for up to two years. Full bodied reds will age well for ten years and dessert wines will age well for up to twenty years.
When you buy a bottle of wine, you should transfer it to your Wine Chiller PPF36 immediately.
PowerPac Wine Chiller 36 Bottle (PPF36)
Model PPF36, Capacity - 36 Bottles
Single temperature zone of 4 to 18 degree, 6wooden shelves
Low vibration and auto defrosting
3-layered glass door, circulated fan cooling for balanced storage temperature,
Voltage 220-240~50Hz, Input power 85W, refrigerant R600a, Net weight 27kg,
Dimension (packing) 51x52x87cm.
Additional service request (Our CS will confirm with you before delivery. Cash upon delivery for additional service) *
Disposal NOT included.
Installation +$20.00
Free delivery applies to lift landing only.
Carry up to (2nd Floor) +$20.00
2nd Floor ($20) + $10.00 for additional subsequent level
Surcharge delivery to Tuas and Sentosa + $8.00
* We reserve the rights for any delays or cancellation in its sole discretion if fail to accurately register your request or processing orders.
Voltage : 220 - 240 V / 50 - 60 Hz
Power : 85 W
Refrigerant : R600a
Volume : 85 L
Dimensions : w 470 x d 480 x h 840 mm
Weight : 27 kg
Bottle Capacity : 36