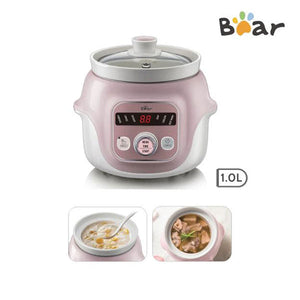 BEAR DDG-D10B1 DIGITAL SLOW COOKER WITH CERAMIC POT 1.0L
Authorized distributor
Electric slow cooker Porridge pot Baby food cooker
Ceramic pot to extract and retain food flavor while maintaining food moist and nutritious.
Pre-set function selector for easy cooking & wide usage.
Great for cooking soups, porridge, herbal tea, ginger tea
Thick high tempered glass lid
Little or no supervision needed
Easy and convenient cooking, energy saving
Rated capacity: 1.0L
Rated power: 100W.
Voltage 220-240V ~ 50/60Hz.
Package Size: 232x232x224mm.
SAFETY MARK 190119-24.