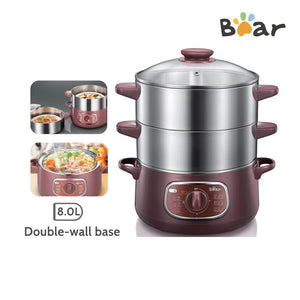 Authorised distributor
Multi-layer Stainless Steel Steamer Timing Function 
Large Capacity of 8.0Litres
Double Heating Element for rapid steaming
90 Minutes Timer
2 Layer collapsible for storage
Food Steamer with Sterilizer
Safe automatic power turn-off
Easy to wash & clean
Over-temperature protection functions
Flexible stack with Double-wall base
Mechanical knob with 304 Stainless Steel rack
Tempered glass lid and heat-proof handle
Suitable for steaming different foods such as Seafood, chicken, vegetables,fish, buns etc
Multi usage with Steam Pot function able to cook soup, porridge, etc.
Rated capacity: 8.0L
Rated power: 800W.
Voltage 220-240V ~ 50/60Hz.
Package Size: 306x306x374mm.
SAFETY MARK 190118-24.