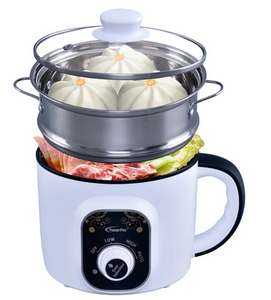 The 1.5 Multi-Cooker Noodle Cooker Steamboat with Steamer PPJ2020 carries out the cooking functions of many appliances all within one versatile and time-saving tabletop electric appliance, freeing up your modern kitchen's limited space.
It can boil, braise, fry, roast, saute, steam, stew, Steamboat / Hot Pot, even bake! It cooks instant Noodles, as well as various types of soups. Using a multi-cooker you will be able to make hundreds of different meals, such as oatmeal, yoghurt, bread, cakes, scones, risottos, soups, stews, casseroles, pot roasts, potatoes, steamed vegetables, desserts and cakes. Multi-cookers also use less oil, so you will be consuming fewer calories. This multi-cooker comes complete with a Steamer enabling you to prepare the main dish and accompaniments you such as dark leafy greens, potatoes, tomatoes and corn, frozen vegetables, winter squash, gourds, pumpkins, seafood, poultry, eggs and desserts.
Soon you will be enjoying nutritious, healthy food without being tied to the kitchen for hours on end.
It possesses the following features: a removable power cable for convenience; large heating plate to accelerate the heating process; and a stainless steel inner pot which can hold a wide variety of food items. Its safety features include auto-shut off function which automatically shuts off power when the temperature rises above a threshold limit.
The 1.5L Multi-Cooker PPJ2020 is light, easy to handle, attractively-designed, uses less electricity due to its high energy efficiency and serves to ensure your food is safe for consumption for many years to come.
PLEASE NOTE: Undetachable inner pot
Can be used to fry
1.2L is older version
Non-stick inner pot and steamer
Auto-shut off features when overheat and out of water
Adjustable heating warming to meet most cooking needs
Voltage: 220v - 240v . 50-60Hz
Power: 600W
Capacity: 1.5L
Weight: 1.38kg
Product Dimensions: Length (With Handle): 224mm, Width: 170mm, Height (With steamer but no lid): 191mm, Base: 132mm, Height of pot only: 138mm, Pot Depth: 91mm, Pot Diameter: 160mm, Steamer Length (With Handle): 206mm, Steamer Diameter: 175mm, Steamer Depth: 61mm
Safety Mark: 180535-12
Cable: Singapore/UK 3-pin plug, ~750mm